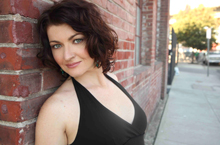 Becky Center is a recording artist, author, spiritual coach, and yoga teacher who is on a mission to help people do what they love and improve their own health in the process. She has touched the lives of over 34,000 students and has created and lead yoga training programs around the nation for the last 8 years. She is currently pursuing a PhD in Asian Studies at the California Institute of Integral Studies where she is combining her background and training in Sound Healing, Vedic Chanting, Yoga Philosophy and EEG Neurotherapy.
A gifted coach and teacher, she delights in teaching yoga and teaching enthusiastic students how to become successful yoga teachers themselves. She read her first yoga book by candlelight in the Amazon jungle and was asked to start teaching immediately upon her return. Nervous and in need of more training, she taught her first yoga class in July 2003 and has been teaching yoga and leading trainings around the nation ever since.
Becky is passionate about preparing teachers to teach safe and successful classes. Her background in teaching mathematics and an undergraduate degree in psychology give her unique insight into the many learning styles of her students and she wants them to feel far more prepared than she did when she taught her first yoga class.