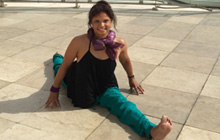 Borne out of a knee injury that stopped Evelyn in her fast track up the Management level Retail, Evelyn was bestowed the most amazing gift of Yoga. In the initial stages of her unfolding practice, Evelyn was resistant to the pace of the practice as she was an avid runner and marathon participant. As her Yogic journey continue to unfold, Evelyn realized that in slowing down her pace, she was learning to cultivate mindfulness in all her physical activities and this was the platform where tremendous healing has taken its place. Fifteen or so years later, with good health restored more than ever, Evelyn is now drawing from her life experiences and healing process in her passionate approach to teaching yoga. She has been practicing yoga for over 16 years, and is an experienced Yoga Teacher (EYT) with Yoga Alliance. Evelyn traveled to India in 2014 to immerse herself in learning the foundations of Iyengar Yoga at B.K.S. Iyengar's overseen Yoga Ganga Ashram, Old Rajpur, at the foothills of the Himalayas.
She has a 200 HR Yoga Teacher Certification from CorePower Berkeley and YogaFit and has mentored in Workshops/Immersions led by Seane Corn, Janet Stone, Jason Crandell, Pamela Maldonado, MC Yogi, Jason Crandell, Nubia Teixeria and Jai Uttal, and Rajiv and Swati Chanchani.
Earlier this year, Evelyn taught Vinyasa classes in Rome, Tuscany, Liguria Italy.
Evelyn's classes are heart inspired and spirit driven Vinyasa flow. She incorporates chanting and guided breathwork into her classes.
Evelyn is the Studio Manager of Worlds Yoga Union City, where a beautiful sangha has blossomed out of local and commuter practitioners and Instructors collectively practice the amazing sacred practice of Yoga!
Evelyn is so honored to have developed and roll out the Worlds Yoga 200 HR Teacher Trainiing which has graduated 10 amazing Yoga Teachers and is getting ready to run the next one in the Fall!